NEWS/PRESS
April 20, 2020
Abolitionist Ale Works To Offer Beer Delivery
Charles Town Brewery Will Offer Beer Delivery to Jefferson & Berkeley Counties
You can now stock up on tasty, locally brewed craft beer without leaving your house! Starting this week, Abolitionist Ale Works will be offering their entire menu of craft beer available for home delivery. The menu will include special release bottles, cans, 4 packs, 32 OZ growlers/crowlers and even kegs!
Deliveries will be made on a variable schedule to all of Jefferson County and the majority of Berkeley County as soon as the next business day and no less than once a week depending on your location. The brewery plans to possibly increase their delivery range in the future as they work out the logistics of this new service. In addition to delivery, the brewery also offers online and phone ordering for no contact pick up at its Downtown Charles Town location.

Abolitionist Ale Works was established in 2017 and specializes in creating unique and flavorful craft beer. Their emphasis is on unique IPA, Sour Ales, Wild Ales, Saisons, Strong Ales and Stouts. "Our business model was primarily as a brew pub with emphasis on product quality and the in house social experience, but like many companies now, we have had to adapt our business and for us that meant producing more packaged beer to go, the response and support from our community has been considerable and we appreciate everyone who has supported ours and other local business during this time" said co owner Joshua Vance.
Online ordering is available 24/7 and phone orders can also be taken during their normal hours of pick up which are Friday and Saturday from Noon-8PM & Sunday from Noon-6PM. The complete menu of craft beer available for no contact pick up or delivery is on the Abolitionist Ale Works website at abolitionistaleworks.com/buybeer.asp
---

September 17, 2018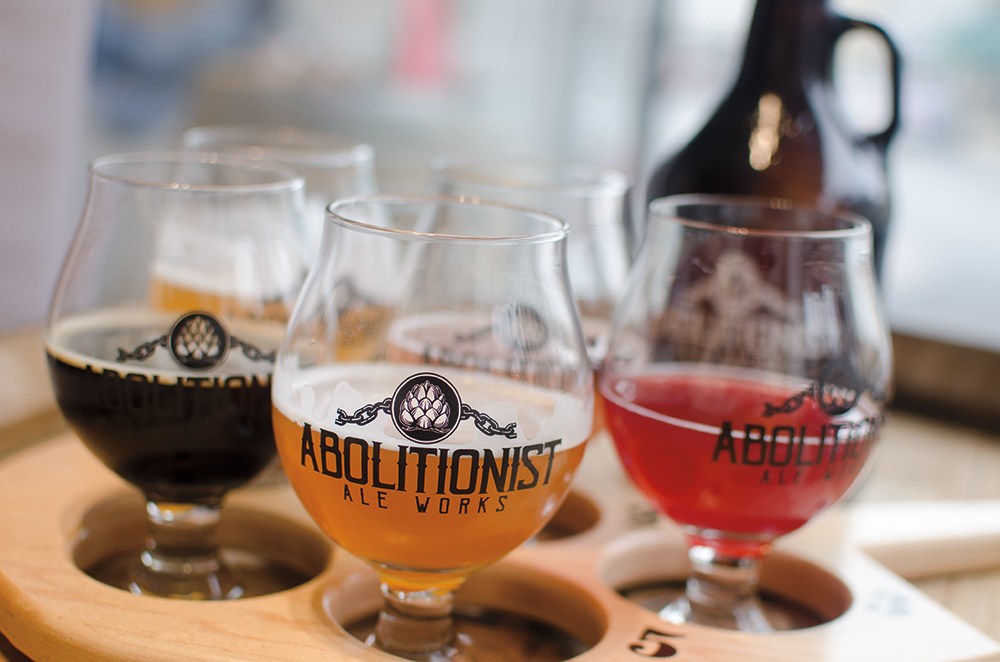 A Radical Approach
At this Charles Town Brewery, Change is the Name of the Game
By Jennifer Gardner - WV Living Magazine
After two years in the brewing business, Josh Vance and his brother, Michael, needed a new name for their company. "Front Porch" wasn't cutting it. So, in 2017, they rebranded and called themselves "Abolitionist Ale Works."
The name reflects the history of Jefferson County, site of abolitionist John Brown's bloody raid, which sparked the Civil War. But it also reflects the brothers' desire to abolish the status quos of beer culture. "We specialize in making flavorful, creative craft beers with natural ingredients," Vance says. "We like to come out with different creative varieties of beer every week."
Abolitionist Ale Works beer cannot be found on shelves at the grocery store or on tap at your local watering hole. The brews are only available at the company's brewpub, nestled in historic Charles Town.
Michael started making beer about 15 years ago as a homebrewer while he was in college. "It got to the point where the beer was just too good to keep to ourselves, so I started looking for a location where we could open a brewery," Vance says. To date, his brother has created more than 90 beers. A new flavor is released each week.
"Basically, Mike tried to take the approach just like a chef would in a kitchen, to make beer as they would, coming up with creative varieties and combinations of flavors and spices."
The business shops local when possible, getting its ingredients from local farms and orchards. "We think it helps make a better beer," Vance says.
While most of the flavors rotate, a few favorites are kept on tap. Alpha Mayle IPA, the brewery's top seller, is made with Citra and Simcoe hops. Shenandoah Saison is aged in a wine barrel with locally grown plums. Blue & Gold n' Delicious & Tart is fermented with blueberries and apples.
The brewpub also serves up artisan pizzas like Funky Fig, made with olive oil, fig, goat cheese, and brie. The Ron Swanson, named for a character from the NBC comedy Parks and Rec, is made with olive oil, red sauce, pepperoni, bacon, pulled pork, and mozzarella cheese.
For now, Abolitionist Ale Works is not planning to grow beyond its historic home. The brothers want to keep the business small and enjoyable. They host weekly events like stand-up comedy and live music.
"We wanted to make a place where people felt like it was a second home to them and a place they could feel proud to be at," Vance says. "As someone that's from the community, we wanted to put West Virginia and Jefferson County on the map when it comes to beer and try to provide a fun, unique experience for everybody when they come through."
129 West Washington Street, 681.252.1548, abolitionistaleworks.com .
---
August 28, 2018
Crafted for Fun
Abolitionist Ale Works brews up one-of-a-kind drinks that pair with creative pizzas
By Crystal Schelle - Herald Mail Media
CHARLES TOWN, W.Va. — It's a summer weeknight and Abolitionist Ale Works just opened the doors at its normal 3 p.m. time.
It was barely a minute past and the bar was empty except for staff — but it didn't stay like that for long. After a quick five-minute tour of the pub, including a trip to the back patio space before returning to the front entrance where the bar is located, the space was overflowing with guests.
Listening to the conversations with the staff and bartender it was easy to understand that it was a collection of regulars and first-timers to the place at 129 W. Washington St. in downtown Charles Town. And that's exactly the vibe that brothers Joshua and Michael Vance want for their first-time venture of a brew pub.
"I think the local response has been great," said Joshua, 39. "We had a lot of regulars we identified right away in the first month. A lot of people didn't feel like they had a place they could call theirs."
Micheal agreed, noting that their location is 30 minutes from places such as Winchester, Va., Frederick, Md., and Hagerstown.
"I've been saying for years, we're not in the boondocks of West Virginia," he said.
Mix that with the regular tourism crowd on the weekends who venture from neighboring towns such as Harpers Ferry, W.Va., and Abolitionist Ale Works gets a good mix of customers.
"Every day we have people from this community coming out and supporting us," Joshua said. "They're our lifeblood."
With a background in real estate investment, Joshua said he found the building that during the '60s had been a pharmacy, and a variety of other things over the years, and felt like it would be a good place to open a pub.
"I felt like there was a need in the market down here for a good brew pub," he said "My brother makes really delicious beer and I was looking for awhile for the right place to open up. We found this abandoned building in downtown Charles Town and it had some really good bones and we thought we could bring it back to life, and built it into the brewery we wanted."
It took two years before the building was renovated, which includes five apartments upstairs, which includes an Airbnb, which they offer guests a growler to fill. In June 2017, Abolitionist Ale Works opened its doors.
"We just wanted to a unique, fun place where people from this area could take pride in and call home," Joshua said. "We wanted to do beer in a little bit of a different way than most breweries do, so we try to come up with a lot of creative flavors that work well together, different mixes of spices or fruits."
The beer is the focus for Michael, 36, who has been brewing since he was in his 20s and was a brewer for Morgantown Brewing Co. in Morgantown, W.Va.
"I always liked experimenting with flavors," he said.
And by looking at Abolitionist Ale Works' menu, it shows. For instance, the Wild Wit Wedding, which is a Wibier and has 5.1 percent ABV (alcohol by volume) is a wheat ale "fermented with wild West Virginia Yeast, tangerines, coriander and black peppercorns." Or Harpers Berry, which is a sour ale with a 4.2 percent ABV, and contains blueberries and strawberries. For those experimenting with hops, take their Alpha Mayle IPA, which uses the maiden name of Michael's wife, is an American IPA with 6.5 percent ABV is hopped with citra and simcoe.
Michael said when it comes to flavors, "I put together flavors that work, not for gimmicks."
A couple of times a week Michael brews beers, making seven barrels every time he brews. Joshua said they have a dozen beers on tap at any given time, but every week they are coming out with new beers.
"I like to let the yeast do all the work, and after that I build the flavors on," Michael said.
That could mean letting the yeast ferment in the barrel for up to three or four months, then build on the flavors to get the blend just right for his collection of brews.
"For me that's what I like, I get bored easy. I want to try something different," he said.
And what Michael said he enjoys the most about the art of brewing craft beers is that the beer will taste slightly different every time.
The reason for that, Micheal said is that "beer is a living thing," because the yeast is constantly growing and evolving.
At the end of the day, both Michael and Joshua said beer shouldn't be an uptight experience.
Joshua said when it comes to beer they like to "think out of the box. We think beer should be fun."
Michael said the beer flavors are "very intimate creations, and should be something fun that someone's never experienced."
Joshua agreed.
"We want to change the way people think about beer," he said. "We've had people come here and say, 'I only drink wine, I don't drink beer.' They've already made their mind up years ago about beer. Then we give them a beer or two they actually like, and they start ordering beer. "
To pair with their craft beer menu is an artisan personal pizza-based menu. Joshua said the pizzas are made on a naan flatbread, with a varied of combinations as the beers. Some have bases with a red sauce, others barbecue sauce and even fig sauce. One is the Fig & Pig, which is fig spread, goat cheese, bacon and Prosciutto, another on the menu is The Ron Swanson is made with red sauce, pepperoni, bacon, pulled pork and mozzarella cheese.
"What we want to do is provide a different type of atmosphere, not upscale but inviting and comfortable and approachable," Joshua said.
In addition to the bar space, dotted with high-top tables in the room when customers walk in the front door, there is a separate long room with tables, and those who are looking to stay outside can do so on the back patio with tables and umbrellas.
Abolitionist Ale Works is open seven days a week, and offers live music Fridays from 8 to 11 p.m. with no cover. They also make a point to bring in comedy acts on the first an third Wednesdays of every month. Additionally, the brothers also try to pair a lot with the City of Charles Town with events such as West Virginia Day this summer, as well as more upcoming events. And also displays local artists in the dining room, which are for sale or consignment.
"We definitely want to establish ourselves as one of the anchors to downtown," Joshua said.
And at the end of the day, the brothers said they want customers to have had a good time, enough so that they'll be repeat customers.
"It's important for us that our staff gives them a good experience," Joshua said. "I hope that they say they had a fun time, they felt welcome and they were glad they came and they want to come back."
And for Michael, it's all about the beer, not him.
"At the end of the day, the beer is the star," he said. "My main job is to be a good father, a good husband, a good man."
Abolitionist Ale Works is at 129 W. Washington St., Charles Town, W.Va.
Hours are 3 to 10 p.m. Monday through Thursday, 3 p.m. to midnight Friday; 11 a.m. to midnight Saturday and noon to 8 p.m. Sunday
Go to AbolitionistAleWorks.com or call 681-252-1548
---
June 15, 2017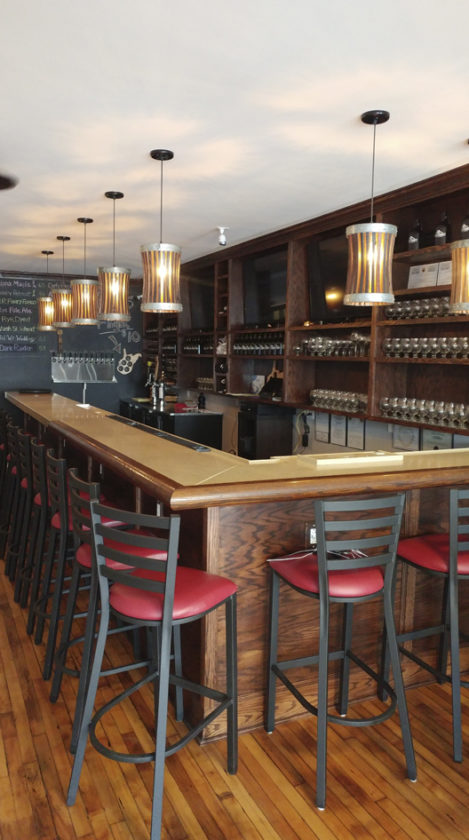 Brewery opens in Charles Town, hosts community party
By Danyell Vanreenen - The Journal
CHARLES TOWN — Dubbed as Charles Town's first brew pub, Abolitionist Ale Works is expected to make an impression on the community during the celebratory kick off and block party Saturday, according to owner Josh Vance.
Located at 129 W. Washington St., Vance said the brewery will offer a wide selection of beers for every taste.
"We're starting with about 15 options, all made in house," Vance said. "We're going to let the customers decide which selections will be most popular — my tastes always change with the wind — but we want to be known for taking chances."
Vance said his brother initially tried to trademark another name for the brewery. However, the original name, Front Porch Brewing Co., was already trademarked. Changing the name to Abolitionist Ale Works seemed to be a better fit for the Charles Town-based brewery, according to Vance.
"The name has strong local and historical ties," Vance said. "We were looking to fit in with the abolitionists and revolt against the status quo of the beer industry."
Vance said he wants the brewery to be defined by a willingness to experiment with different tastes and flavors and take chances.
"I grew up in the area, and I saw a need for a fun pub like this in Charles Town," Vance said. "When we first started Abolitionist Ale Works, we were the first licensed brew pub in (Jefferson) County."
To celebrate Abolitionist Ale Works' grand opening, Vance said the brew pub is hosting a community block party on the 100 block of South Charles Street from 10 a.m. to 7:30 p.m. on Saturday before the 8 p.m. grand opening at the pub. The block party will feature live music and a beer garden where attendees can taste Abolitionist Ale Works town crafted beers for the first time.
Traveling from as far as North Hampton, Massachusetts and as nearby as Martinsburg, Vance said the party will host a total of five bands during the free family friendly public event. The bands will play an after party set at the brewery as well to celebrate the grand opening at 8 p.m.
Higher Hands, the Primate Fiasco, This Way to the Egress, the Dirty Grass Players and DJ Myke Nyce will cater to a variety of musical tastes. Ranging from hip-hop to bluegrass to jazz and everything in between, Vance said the block party will be fun for everyone in the family.
"You have to be over 21 to drink, but the event outside is open for all ages," Vance said. "We want people to come out no matter what time it is and have a good time."
Following the block party at 8 p.m., Vance said Abolitionist Ale Works will open its doors for a premier party with live music and food from C&G Jerk Chicken.
"The public has been waiting so patiently for us to renovate this historic building that we wanted to start off with a huge event so that as many people as possible could participate and try one of our many on site crafted beers" Vance said.
Vance said the Abolitionist Ale Works brewery will be opening on a regular schedule June 22. Regular hours will be Thursday from 3 to 10 p.m.; Friday from 3 p.m. to midnight; Saturday from 11 a.m. to midnight; and Sunday from 11 a.m. to 10 p.m.
Staff writer Danyel VanReenen can be reached at 304-263-8931, ext. 131, or on Twitter @DVanReenenJN.
---
June 14, 2017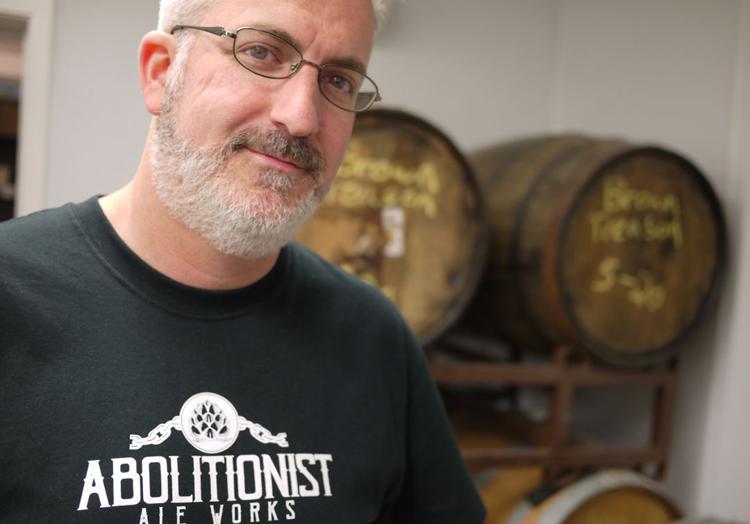 Finding Freedom via a New Brew
By Robert Snyder - Spirit of Jefferson
There's the Rye Pale, a copper beer brewed with mosaic and aromatic citra hops that grab you by the nose as soon as you lean in for a quaff.
Or try the Wild Wit Wedding, an ale fermented with West Virginia yeast, oranges, coriander and peppercorns.
---
June 6, 2017

FRONT PORCH BREWING CO ANNOUNCES NAME CHANGE TO ABOLITIONIST ALE WORKS AND GRAND OPENING SCHEDULE

JEFFERSON COUNTIES FIRST EVER BREW PUB WILL OPEN ITS DOORS AT 8 PM ON JUNE 17 AFTER THE CITY OF CHARLES TOWN'S WV DAY FESTIVAL.

After nearly two years in the making, Charles Town's Front Porch Brewing Co has announced its grand opening date but not before announcing that they will no longer be called Front Porch Brewing Co.
The Downtown Charles Town Brewery and Pub will now go by the name Abolitionist Ale Works and they have announced that they will have a sneak preview opening party on Saturday June 17 at 8 PM, right at the conclusion of the WV Day Festival which is happening all day in the streets of Downtown Charles Town. Don't want to wait that long to try some of their locally crafted beers? The brewery will be hosting a live music beer garden and block party during the festival that kicks off at 10 am.
The Abolitionist Ale Works block party will feature live music from 4 live bands Higher Hands, The Primate Fiasco, This Way to the Egress, The Dirty Grass Players and DJ Myke Nyce. The block party will also feature street performers and last until the doors open for the Abolitionist Ale Works Grand Opening Party which is just around the corner. The grand opening party will feature live music from one of the festival bands, The Primate Fiasco and free to all patrons 21 and up. After the grand opening party, Abolitionist Ale Works introductory schedule of Thursday through Sunday will start on Thursday June 22.

"We wanted to choose a name that really tied into the local history of Charles Town as well as represented our brands resistance to the status quo when it comes to producing beer" said Josh Vance, owner of Abolitionist Ale Works. The beer will be brewed by Josh's brother Michael Vance who was a former brewer at Morgantown Brewing Co and was recently touted as one of the most talented brewers in the state by craft beer media publication Brilliant Stream.

The brewery expects to have a dozen different beers on tap at any given time and will also feature artisan pizzas and local cider and wine for those who don't dabble in the barley and hops side, although Abolitionist Ale Works would like one chance to change your mind about beer before ordering the wine.
Abolitionist Ale Works is located at 129 W. Washington St in historic Downtown Charles Town and can be reached at info@abolitionistaleworks.com or 681-252-1548, owner Josh Vance can be reached at 304-283-3972 or vance.josh@gmail.com


---